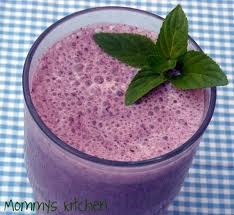 People are always asking me what I eat for breakfast. Although it's touted as the most important one, this seems to be the most difficult to choose meal of the day as well. There is so much conflicting info about what we should be eating and it leaves most of us feeling pretty confused. I think it's safe to say that we can all recognize the health benefits of eating vegetables, especially raw and salads with sprouts, but who on earth eats that for breakfast?! I decided to share 5 super simple and tasty, properly combined for digestion, meals that I personally love having for breakfast that have a bit more pazazz than a green juice or bowl of fruit!
#1- Nothing makes me excited like slurping down the sweet succulence of my sister's signature blueberry coconut smoothie- trust me when I say you have not lived until you've tried this bad boy. It is made by combining two fairly ripe bananas (the riper the sweeter), a ¼ cup of wild blueberries (frozen or fresh, raspberries can be used instead), 1-2 heaping tbsp. of raw organic virgin coconut oil, topped with coconut water to cover. Blend until smooth and enjoy! This baby packs a ton on antioxidants, electrolytes and has the powerful anti-fungal, bacterial and viral protection of the coconut oil, as well as aiding in boosting overall metabolism by up to 25% for hours after its consumption. Best pre-workout snack ever?!
#2- Trying to respect food combining laws are tough, especially for breakfast, but making sure to follow them will ensure, a flat, non-gaseous belly all day long, especially if you can stay raw with the following power meal! I love pairing a crisp sweet orange or red bell pepper (cored and cut into 5-6 pieces) with some raw, creamy natural almond butter and topped with ground flax seeds. This is a protein dense, omega rich, super satiating and blood sugar stabilizing breakfast. (Want to make it even better, especially for diabetics? Add a pinch of cinnamon on the almond butter before spreading it on the pepper pieces, great for the pancreas and regulating insulin levels!)
#3- Not into the fancy shmancy? Good old cereal your thing? Throw away your GMO, obesity-inducing, chemical and sugar laden packaged junk and make yourself a hot bowl of white grain quinoa (amaranth or millet, sprouted grains are best) topped with stevia, a dash of honey, some cinnamon or nutmeg. Of course you can always top it with some dried or fresh fruits, but this would be bad food combining so do it when no one is looking! These grains are considerably less glutinous than your typical oatmeal or wheat and are safe for Celiac's or those with gluten sensitivity. Quinoa is particularly rich in protein and contains all necessary amino acids that the body does not create, making it a complete source and great for keeping hunger pangs at bay throughout the whole morning.
#4- This is not for the dedicated vegan, but sometimes nothing satisfies like a perfectly cooked, soft-medium boiled egg with the runny yolk and some delicious freshly ground pepper and sea salt. MMmmm! I love to make a wrap using either a blanched collard green leaf or a raw romaine leaf stuffed with the sliced egg, some clover or alfalfa sprouts, chopped cucumber and a few drops of hot sauce or Dijon. This is a great very low-cal, high energy meal that will supply ample nutrients and contains absolutely no grains, gluten or sugar.
#5- I love avocado, eat at least 3 a week and although all I need is half of one, a spoon and some sea salt to really get in there, others prefer a less avo-dense approach. So the following is for you. Try spreading either mashed avocado (OR hummus if it's not your thing) on an Ezekiel sprouted grain pita, sprinkling it with sea salt and pepper and adding some sliced bell pepper, shredded carrots or beet, diced mushroom, cucumber and sprouts. Roll 'er up and you've got a true meal of champions. Rich in minerals, protein and essential fats that will work to feed your body and keep you feeling your best all day long.
I hope some of these ideas have given a little morning-meal inspiration to the breakfast confusion and that you will enjoy them as much as I do. Bon Apetit!
Britt