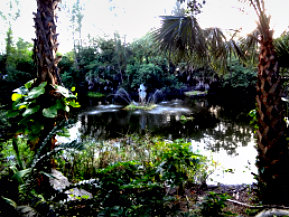 I mentioned in my last posts that I was heading to South Florida to complete  21 day life transformation program offered at Hippocrates health institute and that is just what I did. It was a hectic few weeks, filled with dozens of intriguing lectures and many 'detox' ups and downs. Due to this, it was very difficult to find some extra time to keep up to date with my blogging although I have documented every step of this life changing journey in a personal journal and am now so excited to share it with you!
Over the next few months I will be sharing most of what I have learned during my stay, as it is all way too dense to include in one blog, but I wanted to start by sharing my opinion of the Hippocrates way and to express why I truly feel as though my life will never be the same after this experience.
To begin, I would like to say that the program is not your typical spa retreat, it is not revolved around overindulgence, pampering and relaxation, although some of this is also included ( thank God!). This program requires motivation, commitment to yourself and subjects you to more internal and external cleansing than you have likely ever done. This is not designed for those who want someone to blame, the easy way out or are looking for a quick fix. Remember nothing worth having ever came easy! The HHI way is based around raw, living organic foods, primarily wheatgrass juice, clean water, green drinks and sprouts, exercise, emotional therapy, informative lectures, group support, the sun, stimulating the elimination organs through lymphatic system work, massages, colonics, stress management, meditation, daily enema's and wheatgrass implants. The program completely excludes all animal products, alcohol, drugs (except some meds), smoking, processed food and all sugars, even fruit for many.  It is very difficult to break bad habits and cut out all of our 'comfort' or typical foods and this is where it becomes difficult as most of us are severe sugar addicts. Each one of these eliminated choices are explained and designed to bring ultimate health and longevity.
The point of the program is to provide you with every one of the tools you need to completely and successfully take control of your health and healing. If followed to completion, this program can purge you of 60% of your body's toxic load, accumulated from birth, in just 3 weeks and many have healed themselves from debilitating illnesses following this way of living. This program strips the patient 'victimization' that modern medicine places on us when we get ill and bares the harsh reality behind all of our most common misconceptions about food, vaccinations, parenting, emotional health and healing approaches. The institute prides themselves on supplying an abundance of health knowledge and supports you in developing  discipline, critical thinking and promotes inner growth and self-love. This is not a 3 week quick fix, it is the foundation for a better life. This program exposes you to an ultimate way of achieving superior health.
Now that the serious part is over, I have to gush about the place! The staff are all angels, they are kind, compassionate and extremely helpful! The chef, Ken, is phenomenal and does some unbelievable things with nuts and seeds… just when you think you cannot possibly look at another sprout salad, he comes up with the tastiest walnut tacos, the most crispy raw pizza or the creamiest nut milk ice cream you have ever tasted, refueling your stamina in staying with the program! The grounds are simply paradise (in a relaxed, very natural way). The grounds are scattered over 50 acres, complete with great lodging, beautiful fountains, lush foliage, beautiful buildings, relaxing paths and hammocks, a luxury spa and a bird-chirping quiet peacefulness that just seems to disconnect you from the rest of the world. It was so relaxing to be there, I cried when I left…a few times!
Beyond all of that, the very best part of this experience was the people I met. I was fortunate in having one of the most emotionally and spiritually supportive, motivating, loving and inspiring groups I could ever have imagined! I truly feel closer to some of the wonderful people I met there than I have to friends I have known for years. Many of the guests I encountered were there with health challenges, some very serious, yet the great majority of them were hopeful, joyous and  positive, giving me strength whenever my commitment threatened to falter. I am so grateful for the opportunity, knowing each and every one of them has irreversibly changed me for the better and I look forward to keeping in touch with them and hearing their healing stories.
I went to the institute searching for answers. I have been on a holistic regime for the better part of two years and have come a very long way in healing my Interstitial Cystitis and chronic fatigue, however, I knew there was something missing. I was doing well for awhile on a very alkaline and restrictive diet and had recently slipped a little into some old bad habits like red wine and homemade sweets. Of course my symptoms flared, reminding me that my journey is far from complete. I knew I was not feeling the way I want to feel, exuberant with energy, bursting with joy and peaking in stamina. The greatest thing I realized from my HHI experience is that perfect health is not something that you ever truly achieve. It is a constant learning curve and requires regular maintenance. Dr. Brian Clement, one of the HHI directors, said something so touching I will never forget it ( bare with me, I'm paraphrasing): "Your pain and suffering is your punishment for the sins you've committed against your body and mind. Loving and respecting yourself is 80% of the healing battle, the other 20% is proper nutrition, exercise and lifestyle choices, which should be easy to do once you love yourself enough to take responsibility for your body. The only people who die of cancer or diseases are the ones who do not love themselves enough to fight, those who depend on someone else to dictate their health to them, family, doctors etc. You cannot live for someone else, not your spouse or parents or even children and no one can ever predict how long you will live but nature and you. You have to want to live for yourself, forgive yourself and love yourself always".
I am transformed. I have never felt or looked better and have dedicated myself to a strict healing routine based on the concepts I have recently learned. The last three weeks have been filled with a wealth of the most empowering knowledge I have ever absorbed. I feel rejuvenated, restored and completely at peace with who I am, my weaknesses and my struggles and I look forward to sharing every step of my progress and learning with you!
Brittany