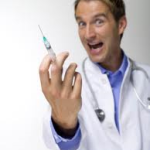 Although I do not believe in conventional medicine, because of my own traumatic personal experiences, it was recently suggested to me by my energy healer to pursue some medical thyroid testing. Since I am not yet finished my naturopathy program and not set up with the equipment to run my own exams, I went to see my 'ex-doctor' to request the paperwork to have my testing done. I walked into his office unsuspectingly, temporarily forgetting why I had decided to stop seeing him in the first place, only to be swiftly reminded. I am deciding to share this with you because it never ceases to amaze me how truly rude, arrogant, uninformed and condescending most Doctors really are.  It's no wonder with some of the most elaborate medial systems in the world, North Americans are still sicker than ever. The sad truth is that conventional medicine does not find cures, or even look for them. They treat only what they can automatically recognize from a med book and simply ignore the rest.
I should have left the Doctors office feeling cared for, protected and hopeful. Instead I left feeling frustrated, insulted and discredited. What went wrong? My concerns and symptoms were basically called 'paranoid imaginations' and when I mentioned some possible approaches I would be interested in taking, I was quickly quieted with: 'We want to make sure that we don't choose to do anything silly'. Yep, he actually used the word silly. It took everything in me not to allow my boiling blood to erupt all over the office! The end result of my hour-long visit? I believe it was something like this: "Sometimes the best thing to do is simply to ignore the symptoms until they either go away or just learn to live with them. There is no point running viral testing because there are no treatment options even if the tests come out positive so what is the point, we only deal with bacteria. Just don't focus on that. Not everyone achieves a symptom/pain-free existence and our goal is to try and get your mind and body functional enough that you can get through each day successfully". And I am not even joking…those were his words. Not everyone gets to achieve a pain-free existence, just be happy you're alive and suffering?? Seriously?! What kind of crap is that? I don't know about you, but personally, I feel that the ability to live a quality, pain-free existence is not just a goal, but our very top basic human right! Without health we have absolutely nothing else. It is the foundation of our entire being and we are absolutely and undeniably entitled to the best possible quality life experience!
To everyone who had been discouraged or put down by a medical professional, rest assured, help is out there in the form of information and lifestyle changes. You do not need anyone else to cure you, you have every ability to educate yourself and use the tools naturally within your body and those you learn about to design your healing pathway. Do not give up. Pity and hopelessness is a cop-out. If you have the desire to get well, you will and when you do, you can write or talk about it and pass on your personal success story to those who are lower down on their healing journey. Our minds and bodies are powerful. Not a stranger, a doctor, pharmaceutical company or any other misrepresented ideologies "in the name of science" can ever take that away from you. In only over a year, I have healed my bladder almost 90% using my "silly" methods and have gone from completely house-ridden, weak and non-functional to living a normal life using lifestyle modification and my own personal research. I am not a 'special person'. I simply refused to accept my illness as permanent and dedicated myself to learning about the body and healing. I know it can be done, I have seen it with my own eyes and experienced it through my own blood, sweat and tears. Soon I will be 100% pain and symptoms free, and so can you! Good luck everyone, never let anyone put you down or try to convince you that you should stop thriving to be the very best possible version of yourself. When you lay down and stop fighting you might as well be dead already!
Brittany